Exam Preparation Workshop Spring 2018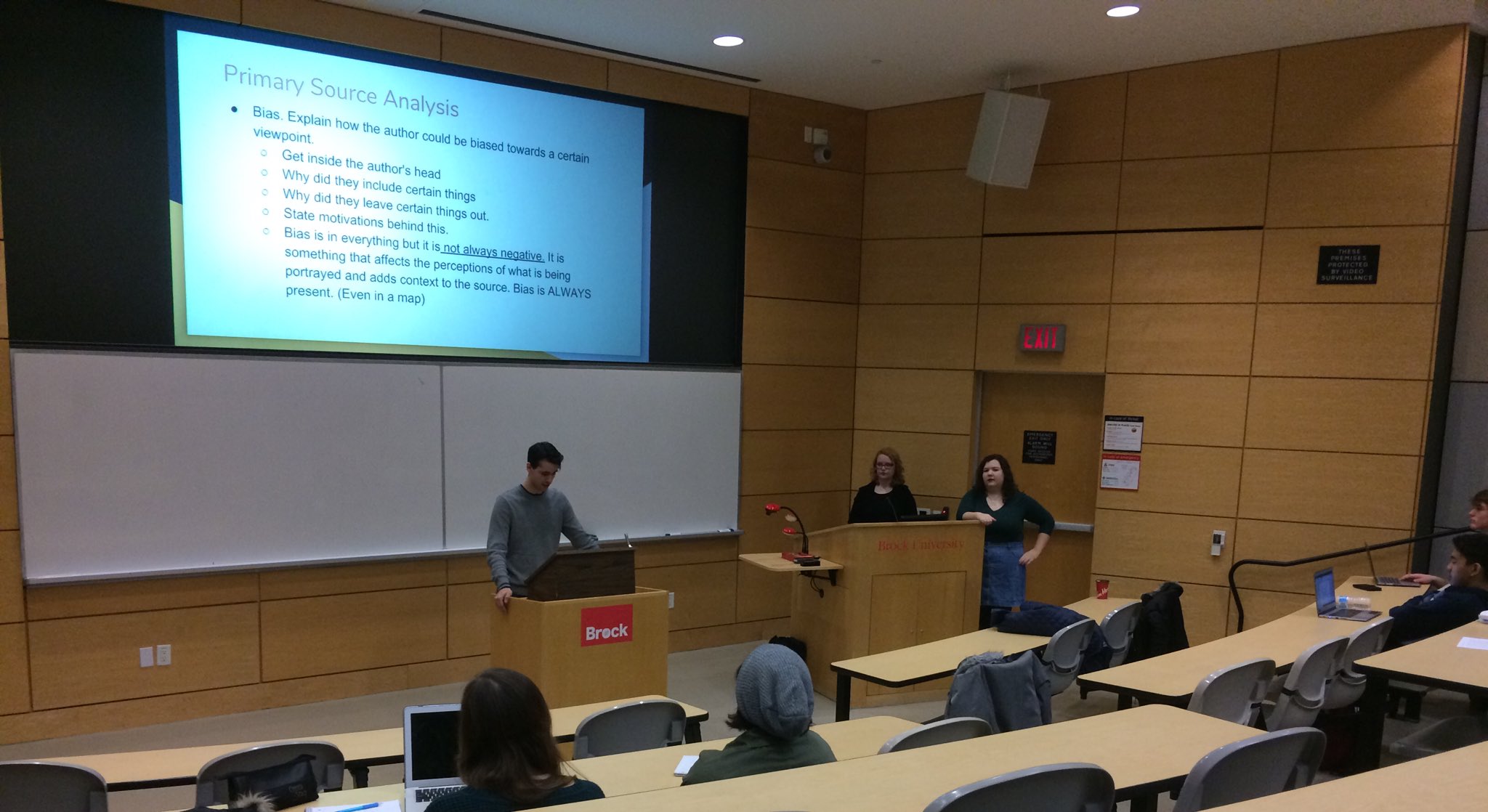 BUHS Executive members Jake Breadman, Naythan Poulin, Kaitlyn Carter and Rebecca Nickerson help first and second year students prepare for their history exams.
History Lab and General Launch Spring 2018
The History Lab launched at open house
Brock students, faculty and members of the public came together last weekend to celebrate all things history and mark the start of a new community collaboration.
The History Lab (THL) was launched during a history community open house held Saturday, April 7 at the Niagara Military Museum and Niagara Falls Public Library.
The initiative — a partnership between the Niagara Military Museum, Seedling for Change in Society and Environment (SCSE), and Maria del Carmen Suescun Pozas and Elizabeth Vlossak, Associate Professors in Brock's Department of History — aims to create, support and sustain communities that promote history research through scholarly citizen engagement.
The THL launch was one of several highlights of the weekend event, which also featured the research and pedagogy of Suescun Pozas and Vlossak, poster presentations by MA students and the launch of the third edition of the undergraduate history journal The General.
The History Lab has grown out of the success of Seedling for Change in History, part of the non-profit SCSE founded by Suescun Pozas. Vlossak and Suescun Pozas are Fellow Associates with THL.
"Seedling for Change in Society and Environment is a community group whose members see themselves as citizens engaged in communicative action pursuing knowledge together for positive social impact," says Suescun Pozas. "The History Lab was born in the space SCSE opened to have this kind of conversation and to start making a difference across Niagara."
The History Lab brings together "what may at first appear to be unlikely partners," Vlossak says. "But collaborating together and with community partners generates an incredibly dynamic, creative free flow of ideas and approaches. The lab is not only a metaphor, but a very real physical and mental space in which to experiment and develop new ways of 'doing history.'"
The History Lab will work to connect academia with grassroots organizations like the military museum, encouraging student engagement with the museum, Seedling for Change in History, and Seedling for Change in Society and Environment through joint events. It will also engage scholars in the Niagara region through lectures, seminar series and special events.
The History Lab will organize special annual commemorative events, such as a recent International Holocaust Memorial Day event.
During his opening remarks at last weekend's open house, Interim Provost and Vice-President, Academic Tom Dunk said an understanding of historical and social context gives meaning to human life and is essential to making the world a better place. This understanding comes not only from professional academics, but requires the input and participation of the entire community.
"Without knowing how the human world works — what the humanities and social sciences do — the technical skills and promise of big data, machine learning and artificial intelligence is unimportant," he said. "Fundamental to all of this is understanding the historical and social context that gives meaning to human life."
In addition to the THL launch, the open houses saw the introduction of the 2018 edition of The General, the Department of History's annual undergraduate journal.
The publication gives students the opportunity to engage in a range of public and intellectual debates and to showcase the diversity of research being done by students in the department. This year's edition features essays on a broad range of subjects, including early modern midwives, death in renaissance Italy, the Vietnam War and Sputnik, as well as a special paper by Tricia Nowicki, a second-year History student who passed away in November 2017.
The journal is written, peer reviewed and edited by History students in collaboration with department faculty and the Brock University Historical Society. This year's editors were fourth-year History students Matt Jagas and Grace Viana.
Print copies of the journal are available from the Brock University Historical Society. The journal is also available online through the Brock library.
Exam Prep Workshop December 2017
https://brocku.ca/brock-news/seen-and-heard/history-students-offer-exam-tips-in-peer-workshop/
History students offer exam tips in peer workshop
Second-year History student and Brock University Historical Society member Kaitlyn Carter, right, talks exam strategies with first-year history student Vince Savoia, who will be writing his first history exam this month. The Brock University Historical Society offered two workshops to share exam study and writing strategies with their fellow undergraduate students writing history exams this semester. This is the first year BUHS has offered the workshops and they were well received by students taking their first history courses.
Latte Lecture November 2017
Cocoa and Cram Fall 2017
Vikings Debate at Fine Grind Cafe Fall 2017
BUHS Volunteers at Fall Preview Day 2017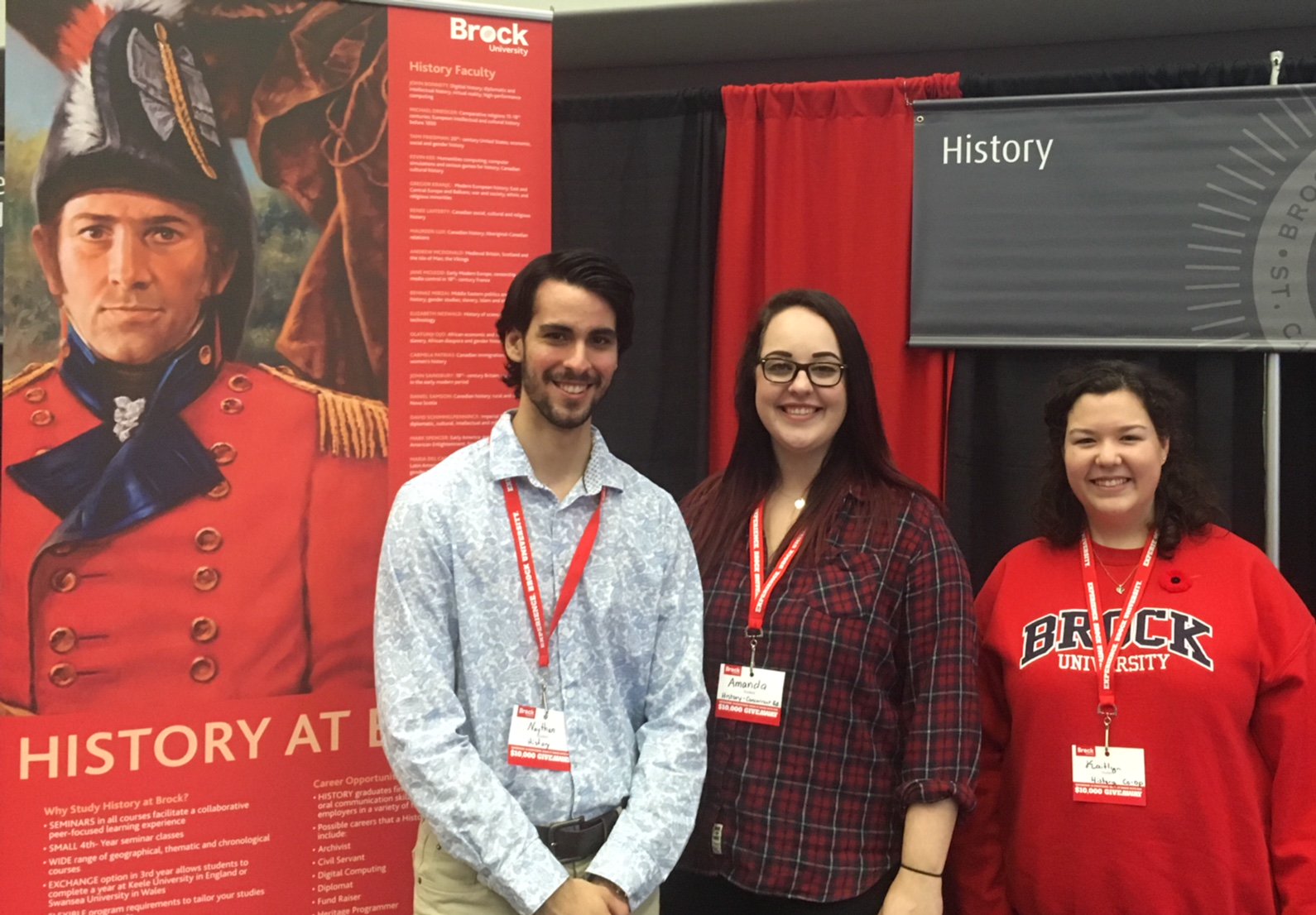 Students Amanda Balyk, Naythan Poulin and Kaitlyn Carter meet potential new Brock history students.
Brock University Archive Tour Fall 2017
Clubs Fair Fall 2017
The General Launch Spring 2016
A warm thanks to all who attended our launch party of the general brock university Undergraduate journal of history today!
It has been an exceptional year for the Brock University Historical Society and we were delighted to celebrate today with around 35-40 people including the editors, history faculty and authors of our inaugural edition of our journal!
What to do with Your History Degree Round table Discussion Fall 2015
BUHS Brock TV Spotlight Video Fall 2015
What Can I Do With My History Degree Workshop Fall 2015
The First BUHS Workshop in Career Development Series was a success! We thank all of you who attended. We would like to thank Brock Career Services, Kara Renaud and Michael Pratas for a great presentation on "What Can I Do With My History Degree?"
Brock Historical Society Returns Brock Press Article  Fall 2015
Brock Historical Society returns for 2015 school year
Over the summer, the Brock University Historical Society has been preparing for its re-launch, just in time for the new academic year. The club has re-branded, created a website and logo, and is now ready to bring history-lovers together at Brock.
"I really wish there had been something like this when I was a first-year student", said John Raimondo, the BUHS (Brock University Historical Society) President. "Othe
r universities like McGill and Western have thriving student history groups, and this is something that's definitely been missing from Brock's History Department."
BUHS is not a BUSU-ratified club, but is instead associated with the Brock University History Department. The society is free to join and is looking to attract more than just History majors.
Helping Raimondo re-launch the society is the 2015 BUHS executive team, Rebecca Morkunas, Michael Angaran, Courtney Svab, Chelsea Gordon and Erin Grieve, as well as faculty advisor Dr. Jessica Clark and the support of many Brock faculty in the History Department.
"The guidance of Dr. Clark throughout the entire planning process this summer has ensured that BUHS's initiatives will be tailored to students' needs and interests", said Raimondo.
There are many common stereotypes surrounding History majors, including that degrees in History are dead-ends or are simply limited to learning the factual events of the past.
"I've attended many open forums with incoming History students and their parents. One of the common questions from parents is 'what will my child do with this degree'," said Raimondo. "There are so many avenues you can take with a humanities degree. It's not just learning facts, it's about perspectives and contexts. Learning from the past is something that is missing from our society."
Being in the Niagara Region gives both BUHS and Brock's History Department the added bonus of being surrounded by historical sites, battlefields and landmarks that recount the region's rich historical past.
The BUHS hopes t
o capitalize on this location by taking part in this rich history, going to the "First Fridays" run by historical museums across Niagara that are designed to disassemble the stigma of museums being stuffy.
"It's an exciting time in the Humanities, History and Modern Technology are colliding and creating new areas of study", said Raimondo. "The list of courses offered at Brock definitely encapsulates that. This past academic year, I took a full-year HIST course with Dr. Bonnett where I was able to digitally restore two original 19-century buildings from St. Paul Street in downtown St. Catharines.
Overall, the main goal of the BUHS is to 'promote the study of history at Brock and in the community' and one of the main ways Raimondo plans to accomplish this is through social events.
The re-launched BUHS' first event of the year, a social mixer, is open to all students, whether they are enrolled in a history class or just interested in meeting new people. The mixer will be held on September 23 from 2:00 p.m. to 4:00 p.m. in Thistle 255.
For more information, visit brockubuhs.wordpress.com or check out their Facebook page
Brock Historical Society Gets its Own Logo August 2015
History aficionados, feast your eyes on this! It is with great pleasure to announce that the Brock University Historical Society has an official logo. Keep your eyes open for our posters around campus this September